Bedford Wheels supply and fit all car tyres and tyres for all light commercial vehicles.
We utilise the lastest fitting and wheel balancing technology – installed by technicians with a professional approach and attitude.
From our 2019 range, we have a vast array of tyre sizes and types to fit all vehicles currently on our roads.
Bedford Wheels stock top quality tyres giving reliable performance for all vehicles and for all tyre applications.
From excellent wet grip, straight line stability, high comfort ride to low noise levels, at Bedford Wheels we have tyres that really satisfy all of these demanding requirements.
Bedford Wheels stocks tyres from the leading tyre manufacturers and you will find these incorporate the latest advances in tyre technology. The top tyre manufacturers use leading-class technology to bring quality tyres with excellent traction, braking and superior handling.
We have a vast array of tyre sizes available from stock all vehicles currently on our roads. Our two newest brands are Vredestein and Kumho tyres offering a wide range of quality tyres to meet a variety of specifications.
<!—Point-S Website Widget Script Start -->
EU Tyre Labelling
EU tyre labelling legislation came into force to help you make more informed decisions when buying your tyres. The label shows you 3 important performance attributes – these are fuel efficiency, wet grip performance and exterior rolling noise.
Bedford Wheels implemented the labelling as soon as it came out so that we could provide you with all the information you need to make an informed choice.
An example of the label is shown on the right or for more information please click on the link below.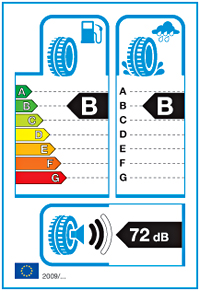 Eco-Friendly Driving
Bedford Wheels are environmentally conscious and as such we provide the very latest in Eco-Friendly tyres and tyre pressure monitoring.